My friend Paul S. from Pfeiffer Pfilms and Meg Movies is one of the first people I really connected with online over a shared love of Michelle Pfeiffer and her movies. He's been a tireless supporter of my writing and a cherished friend. In the last year or so, we've combined on a few dual review posts (at his site and at my old site), where we extol the virtues of the best actress out there. As Paul says, we revel in "simmering superlatives" and it's always a good time, and a fun read. It's two people enthusing about a performer and films that bring them joy – what's better than that? Today, not long after La Pfeiffer turned 62, we're counting down our top five Pfeiffer films. Will there be overlap between our lists? Read on and find out…
5. Paul: What Lies Beneath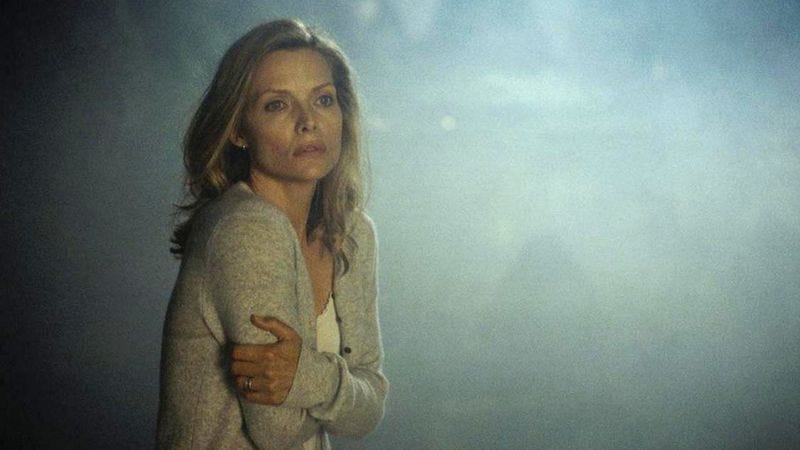 What Lies Beneath makes the cut for one remarkable scene, the tortuous bathroom showdown where Pfeiffer communicates bone shuddering terror with the minimum of physical movement. The film never quite lives up to what Michelle communicates so effectively, using only her eyes. Nevertheless, this one scene is a master class of nuance and detail in a performance.
Michael's response: You are so right, Paul. That scene is masterful, thanks largely to Michelle's sensational performance. Her terror is palpable. I think she's exquisite throughout the entire film, which she carries in almost every frame. It's her film, all the way.
5. Michael: Married to the Mob
"Cheers to elevators. You meet the nicest people in them." Angela de Marco has had a vice-grip hold on my heart for decades now, thanks to Pfeiffer's extraordinary performance in Jonathan Demme's Married to the Mob. There's something about Angela's emancipation from a suffocating mob life in the suburbs, her exciting new adventures in the big scary city, and her impossibly charming romance with Matthew Modine's character Michael (who's an undercover agent spying on her, which of course means he's going to fall in love with her) that just speaks to me in a healing way. The very definition of a "feel good film" for me.
4. Paul: One Fine Day
My love for the romantic movies of the 90s emanates almost entirely from that nexus of love story supernovas, Meg Ryan, who starred in most of the decades unforgettable and magical romances. Really, the only person who ever came close to eclipsing Ryan's radiance was Michelle in One Fine Day. This film uses her movie star sexuality and weary bite in equal amount, resulting in a perfect storm of Pfeifferism.
Michael's response: "A perfect storm of Pfeifferism!" Indeed, my pfriend, indeed. Michelle as Melanie Parker is sexy, smart, snarky, and sweet, all wrapped up in one stunningly gorgeous package—seriously, she looks exquisite in this movie, from that perfect '90s bob hairstyle to her power suits all the way down to that hilarious dinosaur tee.
4. Michael: Batman Returns
This one should almost count as two performances in one, as Pfeiffer does extraordinary work bringing both Selina Kyle and her alter ego Catwoman to life. It's especially impressive when you consider how diametrically opposed the characters are—Selina is meek and timid, while Catwoman is fierce and ferocious. I marvel at Michelle in this film. She wrestles control of the entire thing away from Batman himself and , frankly, the movie should've been called Catwoman instead.
3. Paul: Married to the Mob
1988 was a defining year in Pfeiffer's career, thanks in part to her performance as Angela de Marco in Married to the Mob. Michelle delivers some great comedic moments here, particularly in the climax when she pokes out her tongue before throwing a knock out punch. Despite her big hair, accent, and garish outfits, it's the quiet longing in Angela's eyes that lingers most in my mind, transforming the film into something genuinely moving.
Michael's response: Angela de Marco cracks the top five for us both, my pfriend, and with good reason. As you astutely note, her eyes linger most. Pfeiffer's ability to convey Angela's every emotion in those baby blues is nothing short of extraordinary. Jonathan Demme was smart to zoom in on Pfeiffer's face so often in this film.
3. Michael: The Age of Innocence
The film that defines heartache and longing for me. Scorsese's underrated masterpiece features Michelle's astonishingly powerful performance as Countess Ellen Olenska. She and an equally sublime Daniel Day-Lewis as Newland Archer are simply heartbreaking. We know their love is considered taboo during this confining age of innocence in which they live, so watching them yearn to break free of these societal constraints in various social gatherings is excruciating. Michelle accomplishes so much with her beautifully expressive eyes here, conveying Ellen's tragic love for Newland, and how she knows in her heart that she'll live with this pain for the rest of her life.
2. Paul: Batman Returns
When it comes to Hollywood stars, we all have certain performances that inflame our passions so deeply we carry them with us for ever. For me, Pfeiffer's Selina Kyle/ Catwoman is one. In Tim Burton's gothic extravaganza Batman Returns, Michelle mines the role for its horror, tragedy, and distinctly feline (distinctly feminine?) thrills with aplomb. It's touches like these that make Pfeiffer a wholly unique actress, unlike any other blonde bombshell in Hollywood history.
Michael's response: It is an extraordinary performance, Paul. The kind that right proper blows your mind every time you watch it, which really shouldn't happen with familiarity but dammit she's that good as Selina/Catwoman. She's astonishingly provocative and powerful in bringing all facets of Selina's personality to the fore. One of the best performances of 1992, by anyone, hands down.
2. Michael: The Fabulous Baker Boys
Susie Diamond is probably the role Michelle will be remembered for above all others, and rightly so. The performance is so captivating and unforgettable. After years of being dismissed as mostly just a pretty face, this is the role that really made people sit up and take notice (as did Dangerous Liaisons the year before, but this one even more so). I'll just say it, too: she was robbed of the Oscar that year. She shines like a shooting star in this film, and it's the kind of performance you can watch over and over again and still find more to love about it. There's a reason I named this place The Starfire Lounge (one of the Seattle clubs where Susie and the Baker Boys performed) – Susie Diamond is Pfeiffer at her very best.
1. Paul: The Fabulous Baker Boys
There's one performance that towers over all others in the Pfilmography and I can't imagine Michelle ever topping her wonderful Susie Diamond in The Fabulous Baker Boys. The performance has just about everything: grace, ease, charm, wit, comic timing, magnificent allure, sultry singing, sexy moves on the piano and a totally assertive independence. As much as I love Meg Ryan in When Harry Met Sally… Michelle should have won the Oscar for this.
Michael's response: Truer words were never spoken, Paul: Michelle deserved to take home the Oscar that year. Susie Diamond is, was, and will forever be her defining role in most people's eyes. I adore her in this film. A real performance for the ages.
1. Michael: Frankie and Johnny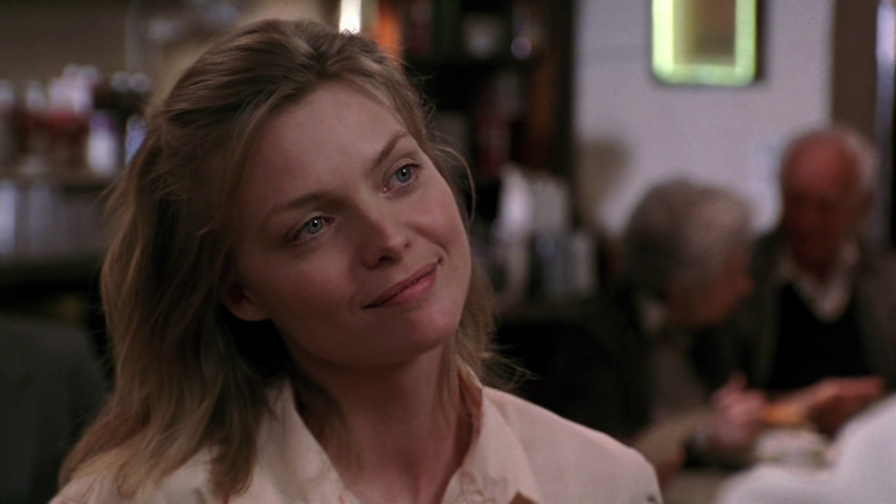 Like Susie Diamond, Frankie represents the very best of Michelle Pfeiffer as an actress. All of her strengths – including her astonishing versatility – shine through beautifully in this film. Alongside Al Pacino, she crafts an achingly beautiful performance, full of heart and soul. Frankie feels real, lived in, as if Michelle had been playing her for all of her life. Frankie feels emotionally damaged, and Michelle conveys that in every scene, while still showing us that even if Frankie doesn't realize it, she is indeed a strong, resilient woman with so much to offer. It's just a beautiful performance that fills me with so much joy, even in moments when I'm crying along with Frankie.