As everyone already knows, Batman Returns is one of my favorite Christmas movies. It's darkly comic take on Gotham City and its bizarre costumed inhabitants goes down like the best spiked eggnog – leaving you feeling all warm, fuzzy, and giggly. Or is that just me?
Everyone also knows how fond I am of Michelle Pfeiffer's dual performance as Selina Kyle and Catwoman. Sometimes I compile a list of roles that should have earned Michelle Oscar nominations, and this one's always on the list. In the history in superhero cinema, I'm not sure anyone has ever been more electrifying than Michelle in Batman Returns. She makes us want to give the painfully shy and awkward Selina a big old hug one minute, and then later do something a little more, uh, R-rated with Catwoman. Or is that just me?
It wouldn't be Christmas season without trying to work in another viewing of the most deliciously weird superhero movie ever made. But it's not the only Pfeiffer movie that works in a little holiday magic. The Fabulous Baker Boys takes place over a few months but part of it is during Christmas time, and the New Year's Eve scenes are some of the movie's most pivotal and memorable. We even get the absurdly adorable image of Michelle looking merry in a sparkly red dress and Santa hat.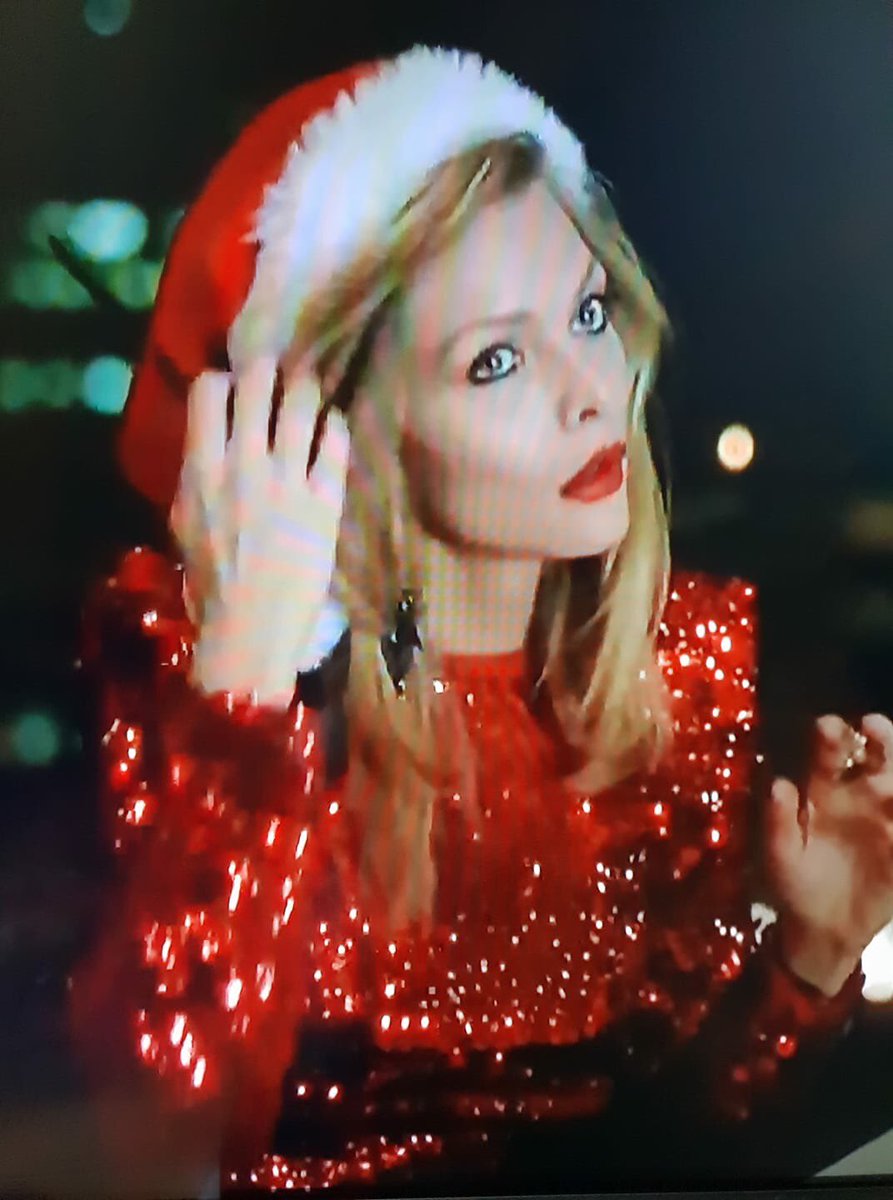 And who can forget her Christmas tree ensemble in Grease 2? That outfit proves without a shadow of doubt that Michelle can still look beautiful in absolutely anything.
The holiday season encompasses several celebrations, and New Year's is the culmination of them all, so let's not forget Michelle's lovely turn in a movie I adore even though I know it's not that good, New Year's Eve. Her segments with Zac Efron give me that same eggnog-style warm, fuzzy, and giggly feeling. They're sweet together, and have some honest to goodness onscreen chemistry. It's a role of Michelle's I've really grown to appreciate more with each passing year. Certainly, it's not career-best work, but as she always does, she pours herself into the role, making it intimate, honest, and truly memorable.
It's much harder to work ourselves up into much of anything resembling holiday spirit this year. So maybe we need Michelle's holiday appeal more than ever. Why not give it a try? Have yourself a White Gold Christmas with the ultimate White Gold Queen herself. Throw on a few of her holiday films, spike that eggnog with your spirit(s) of choice, and let Michelle get you in the holiday mood. Works like a charm every time. Or is that just me?