Sometimes you read a review and think, "How did this person get inside my head?" That was my reaction while back to Doreen St. Félix's review for The New Yorker of the recently concluded first season of the Showtime limited series, The First Lady. For the most part, I share her overall assessment of the series as "an odd failure." Also, and as seems to be the consensus option of critics, she finds one performance to be the series' saving grace: Michelle Pfeiffer playing the hell out of her role as Betty Ford.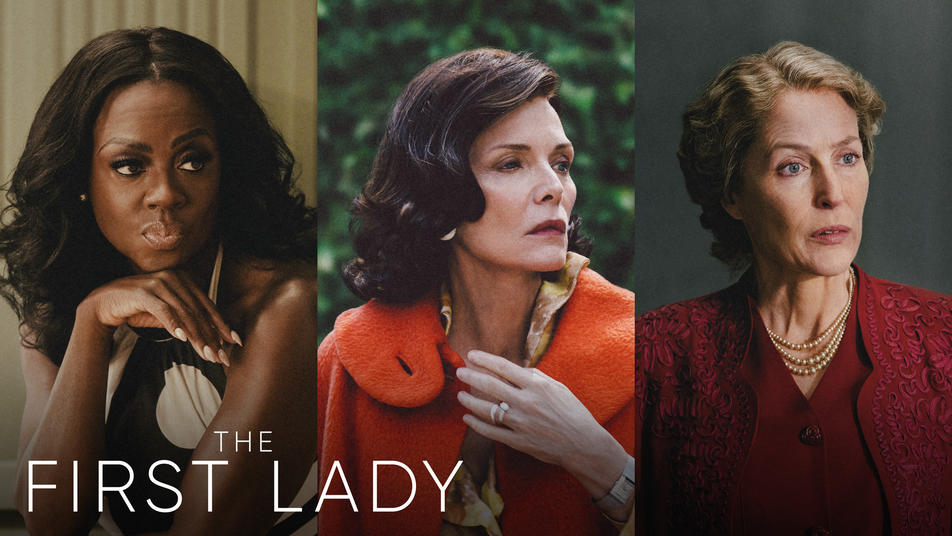 Félix is less than enchanted with the series' writing, and finds the performances by Viola Davis as Michelle Obama and Gillian Anderson as Eleanor Roosevelt to be largely lacking: "Playing Michelle is clearly a burden for Davis. How do you summon a living titan, a figure who already plays herself so well? The actor ultimately relies on mimicry, and makeup—a parody of two-thousands corporate glam, with the thin eyebrows and the glossed lips." Davis's assorted facial tics felt like stand-ins for actual acting. She is widely recognized as one of the modern greats, but I must admit to not often being a huge fan, so your mileage may vary. Watching her in the role simply makes me long to go watch the real Michelle Obama's inspiring speeches instead of seeing Davis do a rote, watered-down version of them. Over the course of the season, I warmed more to Anderson's portrayal of Eleanor. Though her own facial contortions are often equally distracting, she still provides some subtle, heartrending moments.
Davis's Michelle feels like a caricature. Anderson's Eleanor is the more layered performance, but compared to what Pfeiffer has done with Betty, neither woman comes close to reaching her level here. As a massive Pfeiffer pfan—I mean, have you read this site before?—I relished watching her upstage two actresses who have often received far more glowing raves for roles in "prestige" projects in recent years. I think The First Lady proves something about all of three of the leads: Davis and Anderson are not infallible, despite what reviewers typically think, and Pfeiffer is a more nuanced and organic performer than she is given credit for. Here again, Félix puts into words so beautifully what I felt about the three performances over the course of the series. She notes, correctly, in my opinion, "Anderson and Davis are regulars on the grandstanding-bio-pic circuit, so they have a bag of tricks to pull from when giving flesh to myths. Pfeiffer is acting in a different milieu altogether."
Yes, yes, and yes. Davis is mostly relying on imitation, while Anderson is teetering on the edge of it at times. I was never not aware that I'm watching performances from them. At the other end of the spectrum, residing all by her lonesome in this triplet of stars, sits Michelle Pfeiffer. Against all odds—namely a mediocre script—she manages to elevate this middling material into high art. The entire tone and feel of the series changes dramatically, for the better, every time she is onscreen. Félix agrees: "When [Pfeiffer] speaks the wretched dialogue, she tempers the awkwardness, adding a sigh, a pause. Her Betty Ford is a study of the woman's fears and attractions, a suggestive riff on themes of addiction, frustrated freedom, and wifely melancholy. When Betty's compulsions spin out of control, and her family stages an intervention, Pfeiffer nudges the script away from the written psycho-biddy mania, deciding to show us, instead, controlled rage. It's real."
That's it: the work is real. I come back to that every time I praise a Pfeiffer performance. As Betty, she takes us through one stage of transition after another—from Michigan to the White House and life after the presidency in California—all the while teasing out bits of Betty's growing alcoholism and how it affects her life and her family, while never failing to imbue her first lady with unwavering strength and compassion. In The First Lady, Betty is a driving force in Ford's administration. Michelle portrays Betty as a fierce and tireless supporter of women's rights, marking her as troublesome to more conservative Republicans like a young Dick Cheney, who are solely concerned with the votes needed for Ford to win the election against Jimmy Carter. As we all know, that didn't happen, and when Betty's transition into post-White House life crumbles around here due to excessive drinking and an absentee husband, Pfeiffer could have chewed the scenery, like most actors might. Instead, she adds layer upon layer of subtlety, while showing us a woman triumphant who channels her struggles into helping others who struggle with addiction by establishing the Betty Ford Clinic.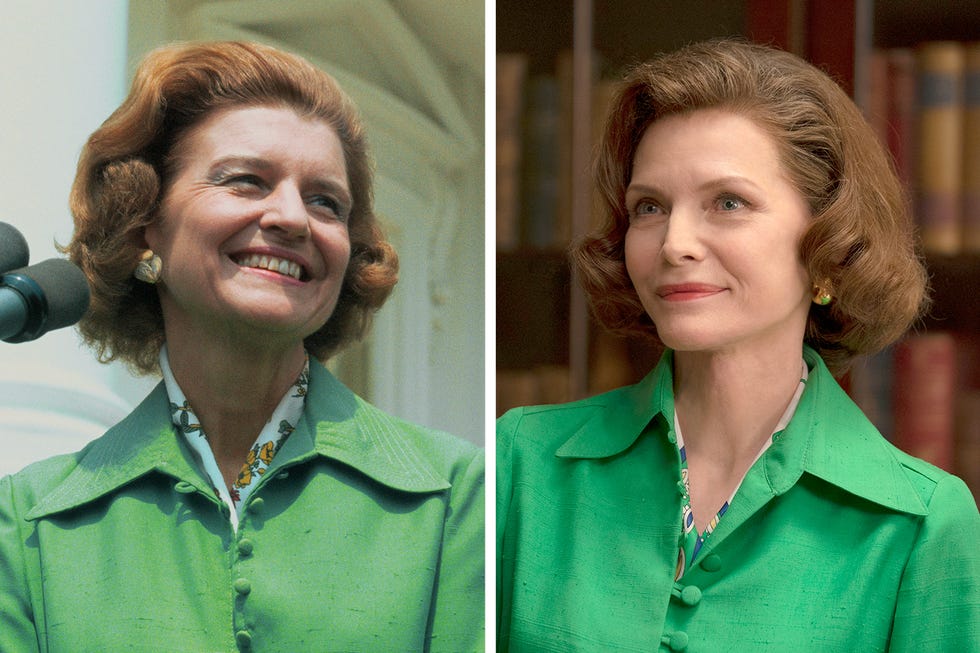 With The First Lady, Michelle Pfeiffer has gifted us with a fantastic performance, from beginning to end, charting one woman's life in the glaring spotlight during the tumultuous pre- and post-Watergate eras. After all these years and all of the great performances, she still remains remarkably, consistently excellent. If only the rest of the show around her was as good. No matter, at least we got a gem of a performance out of it. She deserved an Emmy nomination, but I'll stop short of a full-blown rant about that and end positively with a heartfelt "Brava!" to Ms. Pfeiffer, for her memorable work.